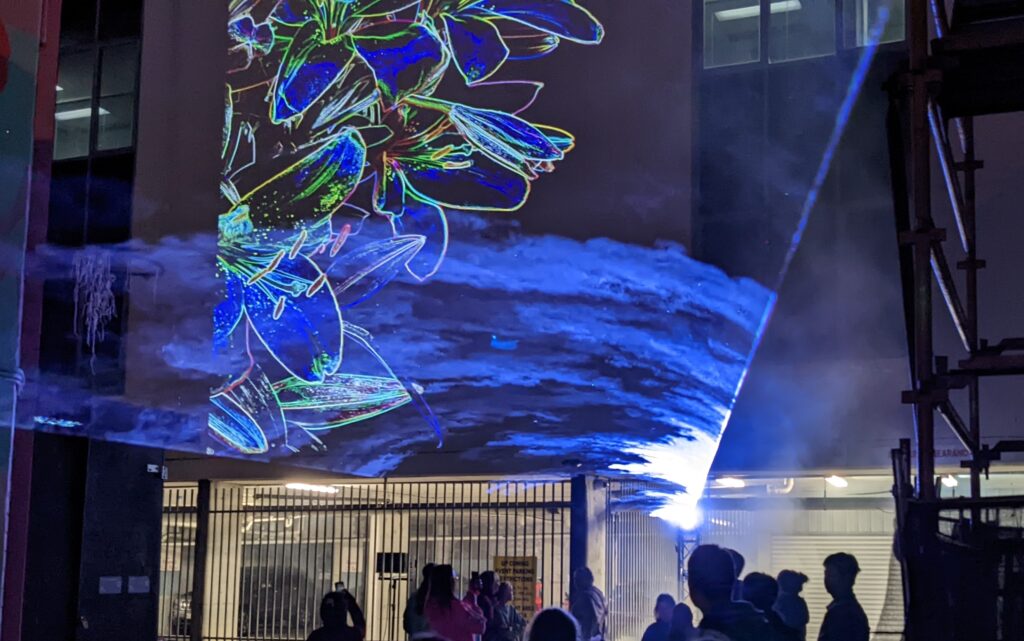 Lilium is a post-digital cine-symphonic mural that depicts a supernatural world inhabited by playful and energetic hybrid species. Lilium explores overlooked cycles of life and death are expressed through disparate temporalities – generative sound and photographic compositions of human figures and decaying flora emerge, bloom, procreate, decay, and re-incarnate. Lilium can be seen and heard in the video essay embedded below. In its premiere showing at the Big City Lights festival on the Gold Coast, Australia, in 2022, it helped re-imagine urban regeneration by drawing citizens into a laneway transformed into a spatial soundscape and a cinematic mural. In this context, Lilium represents an intervention in the contemporary discourse around urban public art and presents digital audio-visual projection as an innovative new model for urban regeneration and placemaking.
Lilium is a collaboration with Peter Thiedeke and Andrew Brown. Lilium was presented outdoors in Regent Lane (Southport) 7-10th July 2022 as part of Big City Lights festival. This involved the installation of 3 large projectors on rooftops to project moving images throughout the laneway and a large multichannel sound system to immerse the audience. For more information about the festival, see here.
The moving image for this project was created by Peter Thiedeke with sound design by Andrew and John. Music was created on VCV Rack (a virtual modular synthesizer) controlled by a range of Touch Designer networks created by John Ferguson to track video motion and luminosity. This allowed a range of data to be extracted from the video in real-time and used for parameter control in VCV Rack. A multichannel mix was completed in Reaper.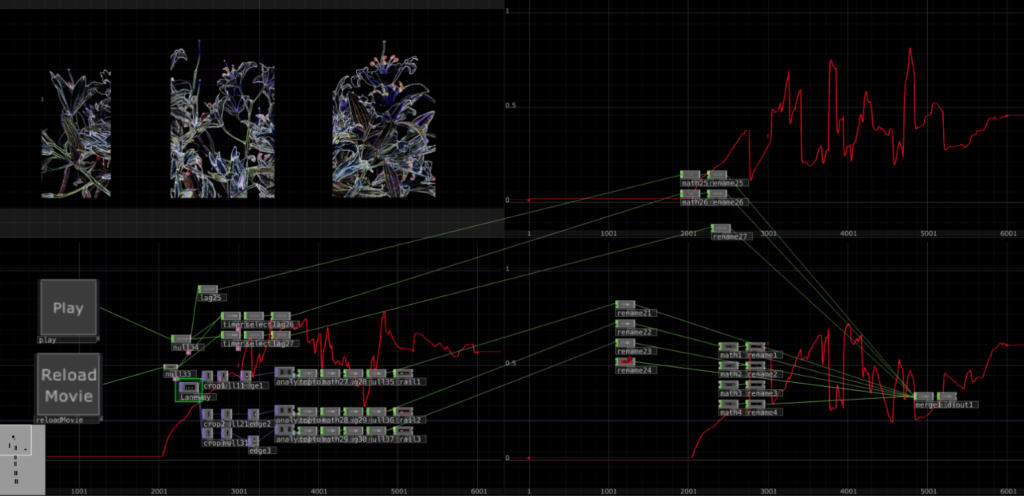 The work was presented across three large projection screens, with sound from a quad-speaker array arranged from left to right beneath the projections. By combining time-lapse photography of blooming and decaying lilies with emergent modulating virtual electronics, Lilium immerses the viewer in a virtual and physically embodied phenomenological experience of place. Moreover, the installation's use of large-scale moving images and spatial soundscape, fragmented spatial distribution of image panels and speakers, and irregular vertiginous viewing angles create a viscerally embodied experience for the audience.
A video essay we made about Lilium, called "Representing Pasts" won the 2023 Amps YouTube Channel Award. The Amps Academic YouTube Channel was initiated in 2014 and has since then shared over 400 pre-recorded presentations and films from delegates at its conferences. These specially produced videos are made permanently available to scholars internationally. They present cutting-edge research, innovative pedagogy, and globally recognised engaged scholarship.