The Unscrambler is an interactive generative art work that was used displayed in the Ian Potter Gallery, National Gallery of Victoria (NGV), as an activity within the Scoot location-based game in Melbourne, Australia, from Sept 16-19 2006.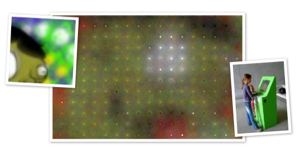 Interaction with the Unscambler requires the users to make order out of chaos to reveal a clue. A distorted image and chaotic music play as the user(s) arrive. They are presented by a rotary dial which directly affects the clarity of the image and music. The objective is to get the dial in the correct position to reveal a clue in the image. When completed the installation returns to its obscured state. The system is constantly working to scramble the image which make the task somewhat more complicated. When not in use the image reverts to a "scrambled" pre-set state chosen by the artistic directors.
At the Scoot event two versions of the Unscrambler were used, one located in the Victorian Arts Centre and the other in the Ian Potter gallery of the National Gallery of Victoria (NGV). The Unscrambler functioned as a generative art work for the public and as an interactive activity to reveal a clue when played by one of the Scoot participants. The Unscrambler was based on the ActiveImage generative art system developed by Andrew R. Brown, Daniel Mafe and Craig Gibbons as part of ACID's Dynamic Content project, who acted as artistic directors for this project. Technical realisation of the interactive component was done by Craig Gibbons and Andrew R. Brown.
The Unscrambler project demonstrates the ability for generative works to function as both ambient and interactive art works and for systems to automatically manage the flow between these modes of interaction. It also demonstrates ACID's technical and design capacity in generative and interactive installations. The Unscambler project was supported by the Australasian CRC for Interaction Design (ACID)